Logline: A plumber's wild moon adventure turns deadly when an evil genius and his AI henchman threaten to plunge the universe into ultimate chaos.
The Mooneys - New Year's Day
"'The Mooneys - New Year's Day' is destined to be a classic holiday film. Should be nominated for an Oscar, or a Tony, a Pulitzer or whatever they give to films I think are like, wicked pissah."

-Imaginary Film Critic - New York Times
Presenting The Mooneys – New Year's Day, a classic holiday feature film that's as outrageous as it is heart-warming! Join the loveable schlub Kevin as he weaves a web of bald-faced lies to con his gullible family into believing they're part of a ridiculous reality TV series on the moon. Meanwhile, a Scrooge-like character dreams of profiting from human misery to secure a Nobel Peace Prize. It's even got a young lad who worries that Santa won't be able to find him after his boneheaded father destroys their apartment, forcing them to reside in a public toilet. Cue the Christmas Carols!
But hold on tight, because The Mooneys is more than just an action-packed, sci-fi, sophomoric comedy—it's a story with heart. Meet the Irish-American Mooneys, a family struggling through everyday life in the year 2999, complete with flying cars, robot maids, and a potato-shaped, fungus-based alien life form with an uncanny resemblance to Neil Armstrong.
With its lightning-fast pace, a gatling gun of gags, and a huge amount of entertainment squeezed into a luxurious 90-minute screen time, this film is the ultimate holiday mood booster. Get ready to deck the halls and Fah- Lah-Lah-Lah-Laugh!
It's a wild ride with The Mooneys, where laughter, chaos, are sprinkled with nutmeg and heartfelt moments, mixing into a holiday nog you don't wanna miss!
Main Character Descriptions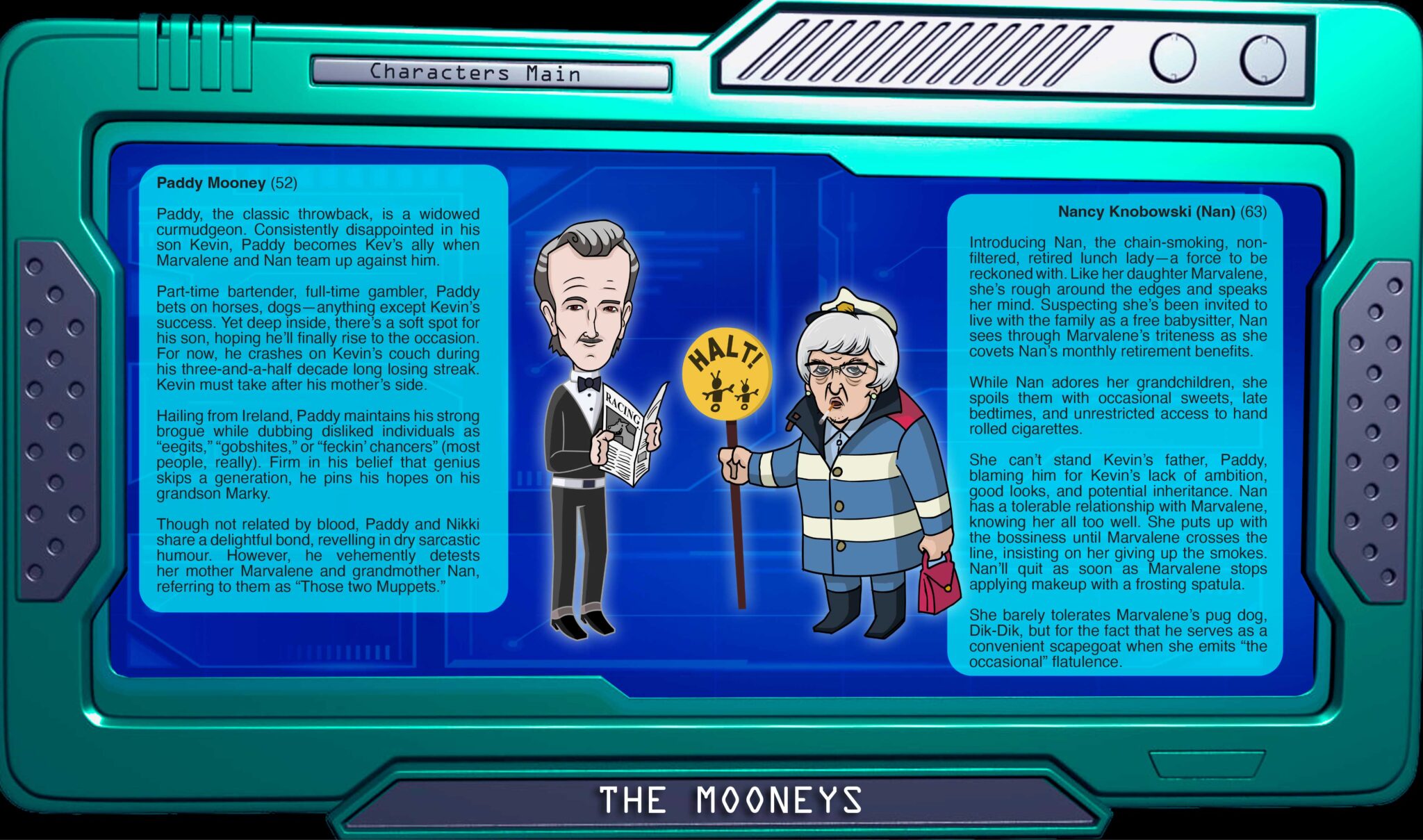 The Baddies Character Descriptions
The Goodies Character Descriptions